Get more from your games!
Whether you're a hardcore gamer or play now and then, Uplay rewards you for playing the games you love with a wide range of exclusive services and free contents.

As soon as you become a Uplay member you start winning units, you benefit of enhanced sharing features and can customize your avatar... And it's only a beginning, stay tuned for more cool features coming up till the end of the year !
Signup Now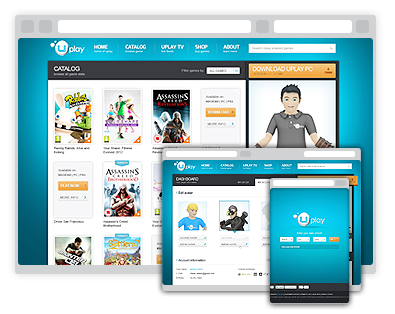 Take your game to the next level with Uplay Passport!
Ubisoft games equipped with Uplay Passport include a unique code which grants you exclusive bonus content plus access to online features. Below you'll find further information on Uplay Passport. Game on!

F.A.Q :
What is Uplay Passport?
Games featuring the Uplay Passport will come with a unique code that, when redeemed, grants you access to online multiplayer play, bonus content, and more. In instances where your game's Uplay Passport has already been redeemed (such as if you've bought a used copy of a game) you will be able to purchase a new Uplay Passport code online.
What benefits does the Uplay Passport offer?
Access to online multiplayer plus exclusive bonus content that is available only to people who redeem their Uplay Passport code.
What is the advantage to creating a Uplay account?
Uplay account members receive access to additional rewards and content not found anywhere else.
What platforms will Uplay Passport be included on?
Uplay Passports will be available for many Microsoft Xbox 360 and Sony PlayStation 3 games.
Where can I find my Uplay Passport code?
Your unique Uplay Passport code is located on the insert card inside the game box.
Will I need an internet connection?
Yes, an internet connection is required in order to access your Uplay Passport content.
How do I redeem my Uplay Passport?
First, find the unique Uplay Passport code located inside the game box. Upon first starting the game you may be prompted to activate your Uplay Passport. Otherwise, you can select EXTRAS in the Main menu, then UPLAY PASSPORT to activate your Uplay Passport. You will be asked to login to your Uplay account or create a new one, then enter the Uplay Passport code to unlock its features. If you do not have a Uplay Passport code, you can purchase one within the game. Or you can activate a free trial before deciding to purchase your Uplay Passport content for good.
Does creating a Uplay account give you Uplay Passport access?
No, a Uplay account does not grant access to Uplay Passport content automatically. To get access to Uplay Passport content you'll need to either redeem the Uplay Passport code that came with your game or purchase a new one online.
How will Uplay Passport utilize Uplay's existing offerings? Will we need to sign into Uplay each time we redeem a pass or will it be tied to our system somehow?
Account creation differs between platforms. For the Sony PlayStation 3 you will need to create a Uplay account, while on Microsoft Xbox 360 account creation is optional. If you've ever created an account and linked it then you never need to do it again. You are already linked if you've done so in the past and your account will be remembered.
If I rent a game will I need to purchase a Uplay Passport?
No, you can access Uplay Passport content absolutely free by selecting the two-day trial. After the completion of the two-day trial, however, you will need to purchase a code to continue using Uplay Passport features.
If I have a used game, how will I know if the access code that came with the game still works?
To determine whether the code that came with your used game is valid, simply input your Uplay Passport code when prompted. If the code that came with your game is deemed invalid you will need to purchase a new one to access Uplay Passport benefits.
How do I buy online access or get a code if I do not have one or my code has already been used?
If the Uplay Passport code that came with your game has already been redeemed, you can select PURCHASE UPLAY PASSPORT to buy a new one.
How much will Uplay Passport cost?
A Uplay Passport costs $9.99 in the US or 9.99€ in Europe. On Microsoft Xbox 360 you can also purchase a Uplay Passport for 800 Microsoft Points.
Can you buy a Uplay Passport account with Uplay units?
No. However, you can use units to redeem great rewards in Uplay Win.
Do I have to buy my Uplay Passport from Microsoft and Sony?
Yes, if you buy a Uplay Passport it must be done through the Xbox LIVE Marketplace or PlayStation®Store.
Why charge at all for online access?
Ubisoft invests heavily in its online features and the company wants to ensure that it's providing a great experience to all of its customers. It takes resources for Ubisoft to run these services and we believe it's critical to the company's success to generate enough income to continue providing top-notch services and support.
If I buy a Uplay Passport will I need to "unlock" it?
No, if you purchase a Uplay Passport online you will automatically unlock its content.
To play online multiplayer, do I still need an Xbox LIVE gold subscription?
Yes, Microsoft Xbox 360 players will need an Xbox LIVE Gold subscription to access multiplayer online game modes.
How do I retrieve my Uplay Passport content if my console is damaged or lost?
If you are logged into your Microsoft Xbox LIVE gamertag or Sony PSN ID persona you will be able to access Uplay Passport content from another console.
Can I access my Uplay Passport content on a different console?
Yes, your Uplay Passport content is available on any console by simply signing in with your Microsoft Xbox LIVE gamertag or Sony PSN ID persona.
Are Uplay Win rewards connected to my Uplay Passport?
No, in order to obtain Uplay Win Rewards you need to redeem Units which you obtain through progressing in your game.
Where can I get answers to questions about Uplay?
Visit uplaypassport.com for more information.
Important notice for Driver: San Francisco Players
When you begin DRIVER: San Francisco, you are prompted with the Uplay Passport menu. The menu has 4 options: "Purchase Uplay PASSPORT", "Activate my Uplay PASSPORT", "Start my 2-Day Free Trial", or "Remind Me Later".

There are two ways to access these online features:

1. Select Start My 2-Day Free Trial, which will not expire, OR
2. Select Purchase Uplay Passport, which will be provided at no charge.


Either option will unlock the 11 multiplayer modes and the Film Director feature on console titles with Uplay Passport.

If players have any other issues please contact Ubisoft Customer Support at http://support.ubisoft.com.