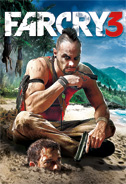 Genre: Adventure
Release date: 29 Nov 2012

Stranded on a lawless island; your only hope of escape is through the muzzle of a gun. Take the fight to the enemy, discover the dark secrets of the island, and outwit a cast of deranged inhabitants. You'll need more than luck to escape alive.
First Blood
Survive in the wilderness and evade pirates.
Needle Exchange
Jungle Journal
Unlock 50 entries in the Handbook.
Higher Than a Kite
Use your wingsuit to reach the Southern island.