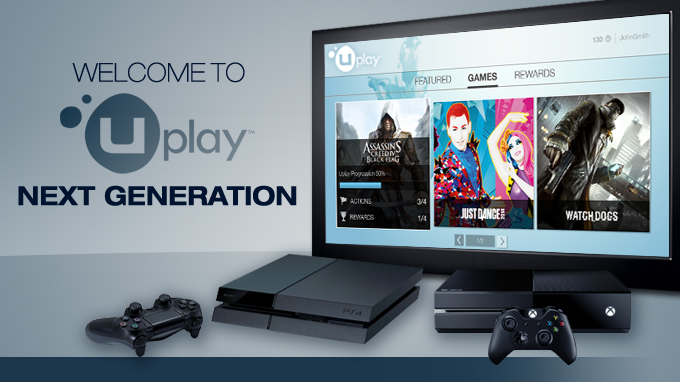 Explore the new Uplay interface on PS4 & Xbox One!

14 Nov 2013

With the release of the 2 anticipated consoles, PS4 & Xbox One, we decided to reimagine Uplay to put the spotlight on what is important: you, your games and what's going on with the community!

Today, we are pleased to introduce to you the new Uplay interface on Next Gen consoles!

The features and the interface have been deeply revamped and improved to provide the best Uplay experience!

Having pleasure in playing a game does not depend entirely on its story and content, interface also plays a big part in your comfort, whether you realize it or not. With Uplay, your in-game experience is deeply increased: play your favorite games to earn Units and unlock exclusive in-game content, Ubisoft games or invitations to video game exhibitions.

The new navigation will pull you to new levels with this heightened experience! For today's menu: "Featured", "Games" and "Rewards" pages.


Do you recognize from which consoles the screenshots were taken?

With the "Featured" page, stay on top of Uplay community's activities: latest announcements, events & contests, promotion, new Ubisoft titles and much more!

Check your Actions and Rewards progress on the games you own via the "Games" page. With the new Uplay interface, you can now access your progress, unlock your Rewards and have a look at the new games while remaining in your game!

Take a sneak peak at the games you can't wait to play!

With the "Rewards" page, check out all the great rewards related to your favorite games available in one click! And make sure the next few days as we have surprises for you…





Interested? Let's have a look at the Welcome, Account creation and Log in pages:

- How it looks when you launch Uplay for the first time

- How it looks when you want to create an Uplay account

- How it looks when you want to log into Uplay

- How it looks when you are logged into Uplay. To celebrate Uplay on Next Gen, receive free Units by joining us on PS4 or Xbox One! If you already have an Uplay account on PS3 and Xbox 360, you will be automatically logged in when launching Uplay on Next Gen consoles.

Disclaimer: The interface is still being finalized so the screenshots shared on the announcement may be different the day of the release.

As you can see, a lot of interesting new changes were brought to Uplay on Next Gen and we hope you're as enthusiastic as us to discover it:

- On November, the 15th for PS4 (USA release date)
- On November, the 22nd for Xbox One (worldwide release date)
- On November, the 29th for PS4 (European release date)

Be prepared! Discuss it further on our forum.




Download one of the new Uplay Mobile Apps on iPhone or Android and get Units by scaning this QR Code!