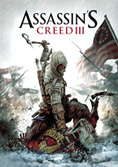 The American Colonies, 1775. As a Native American Assassin fights to protect his land and his people he will ignite the flames of a young nation's revolution. In Assassin's Creed III eliminate your enemies with guns, bows, tomahawks, and more!
Mystery Guest
Tea is for Englishmen
The Sum of Truth
Abstergo Entertainment
Reach level 20 in the multiplayer mode.